Native Instruments Guitar Rig v3.1.1.010 VST RTAS- DYNAMiCS


Guitar Rig 3 es la siguiente generación del estudio virtual de guitarra de Native Instruments, y aterriza con estas mejoras:

- 12 amplis de guitarra y bajo; entre ellos: "Ultraschall", "Tweed Delight", "Citrus" y "Hi-White"
- Nuevo módulo "matched cabinet", que ofrece combinaciones de micrófonos y cajas
- 44 efectos de guitarra
- 16 cajas de guitarra y 6 de bajo, 4 altavoces rotatorios y 9 micrófonos
- Nueva gestión de presets de más fácil acceso; más de 300 presets de fábrica
- Herramientas integradas: afinador, metrónomo, dos módulos tapedeck para grabación
- Máquina Loop y nuevos modificadores
- Vista Live para actuaciones en directo
- Tecnología Dynamic Tube Response


http://rapidshare.com/files/134145201/nigrino.rar
http://rapidshare.com/files/134140840/nigrino.r00
Pass: good guitar
Antress Modern Series -28- VST Plugins of MASTERING
http://rapidshare.com/files/57582316/ModernPlugins_Download_Full_Installation_v2.25__20070801_.rar
Pass: ssopov
Sonnox Oxford Elite Bundle


Mix like the pros.. join the Elite.. own the Elite.

Contains: Oxford EQ, Oxford Dynamics, Oxford Inflator,
Oxford Transient Modulator, Oxford Reverb, Oxford Limiter and Oxford SuprEsser


http://rapidshare.com/files/60791383/Sonnox.Oxford.rar
Pass: ssopov
Blue Tubes Bundle


The Blue Tubes Bundle is a collection of 15 plug-ins processors designed to improve the quality of digital sound recordings.
This bundle recreates the warm sound qualities of classic analog hardware and all 15 plug-ins provide a simple and functional "vintage-style" interface, as well as low CPU consumption.

Blue Tubes Bundle includes:

* BT Analog Chorus CH-2S
* BT Analog Phaser PH-2S
* BT Analog Compressor CP-2S
* BT Analog Limiter LM-2S
* BT Tube Driver DR-2S
* BT Noise Gate Limiter GL-201
* BT Vintage Compressor FA770
* BT Analog Equalizer PEQ-2A
* BT Vintage Equalizer PEQ-2B
* BT Mid-Range Equalizer PEQ-2C
* BT Vintage Oilcan Echo/Delay TLE-2S
* BT Tempo Delay 3D DL-3D
* BT Brick Wall Limiter BW-2S
* BT Deesser DS-2S
* BT Stereo Imager SI-2S


http://rapidshare.com/files/142115990/_VST___Nomad_Factory__Blue_Tubes_Bundle_2.0.rar

Antares AVOX Bundle VST RTAS v1.1.3

Antares have been a major player in vocal processing ever since they unleashed Auto-Tune upon an unsuspecting world, so anything new that they come out with is always worth a closer look. A recurring dream of engineers and producers is to be able to adjust the character of the human voice in a more or less natural way to make one singer sound more like another, and it's probably true to say that until this particular suite of Antares plug-ins appeared, TC-Helicon were the only big name doing anything significant in that particular market sector. Now Antares have joined the race, and though we're still a long way from the 'Dial E for Elvis' box, a lot of interesting vocal manipulation is now possible.

Supplied in VST and RTAS versions on Mac and PC, and Audio Units on Mac OS, Avox is protected using iLok; an iLok key is included in the package so you don't have to go out and buy one. Installation is straightforward, and you can run the program for 10 days prior to authorisation if for some reason you're not able to access the Internet to authorise your iLok key immediately.

Deep Throat

Avox is actually a suite of vocal effects, and appears as five separate plug-ins named Choir, Duo, Punch, Sybil and Throat. Since the latter is the most ambitious of the plug-ins, I'll begin with it. Throat is designed to change vocal character by processing a real vocal track through a virtual vocal tract, with controls to change the throat shape and size, breathiness and glottal waveform.

Avox's modelled throat is divided into four sections, which can be changed in length and width to subtly or otherwise change the character of the sound being processed. A graphical display allows five points on the virtual throat to be dragged horizontally and vertically, with the original positions also being shown for comparison purposes. For Throat to do a good job, you need to tell it some basic facts about the source voice (or other sound) using a menu that lets you choose from soprano, alto/tenor, bass/baritone and instrument. The glottal waveform is the basic sound produced by the vocal cords prior to filtering by the vocal tract, and varies quite a lot between different singers. Here we have a menu of options that goes from hard to soft plus a pulse-width fader, and while this might be simplistic by comparison with a real voice, it still provides plenty of leeway for tonal variation. When a voice type is loaded, an appropriate glottal waveform is selected by default. Maybe version 2 will come with drag-and-drop vocal cord nodules for those Rod Stewart impressions?

Next comes a control menu called Source Throat Precision, which relates to how accurately the algorithm tries to model the throat you've set up. As a rule, high precision settings work best for subtle vocal adjustments while lower precision settings can produce smoother results when creating more radical effects, and can also reduce whistling artifacts caused by extreme settings. The manual suggests that you always start with this parameter set to 'subtle' and then work up the list a step at a time until you find the best-sounding option.

Breathiness Mix adds a synthesized breathiness to the sound, the character of which is drawn from the source sound and modified using the adjacent frequency slider. This needs to be used quite subtly to maintain a natural sound, and if you need a Darth-Vader-with-asthma effect, there's more than enough range to achieve that.

Once the faders are set and the menu options selected, you can start having fun in the Graphic Throat display by dragging the five boundary points in any direction; the grey band in the centre shows roughly where natural adjustments cease and creative abuse starts. The original throat plot is shown in blue, while the points you drag to new positions show up in red. The Length fader then scales these settings up or down globally. Should you stumble on some interesting dynamic effects while editing, you can automate the point positions in your sequencer to create, for example, the sound of somebody singing while being strangled! When audio is being processed, the display also shows the original and remodelled throat contours in real time, again in blue and red. A reset button puts the vocal tract back to its default start points, output gain provides up to 24dB of gain to compensate for level changes caused by the modelling process and Level Matching, when active, tries to make an automatic level compensation so the output is of similar loudness to the input. It is recommended that Level Matching be used only for comparison purposes and that it be switched off for serious use as it compromises the audio quality very slightly.

Throat is a mono plug-in and requires a clean, monophonic source to work effectively as it needs to track the pitch of the incoming voice. A range of presets has been provided, but as every voice is different, these should be regarded as starting points only. My tests produced results that had an obvious parallel with the TC Voice Modeller plug-in for Powercore, insomuch as you have to keep the adjustments fairly small if you want to keep the sound natural. Go too far and you start to sound like a blackmailer's phone call or one of Doctor Who's enemies! More than a little processing also tends to lend the vocal sound a slightly lo-fi quality, and while it can be interesting to really push the sound into this realm for darker hip-hop vocal sounds, it is to be avoided for conventional vocal work. My own view is that used carefully, Throat can be used to create some really useful variations, but I don't think I'd often use it on a main vocal part unless I was after something obviously treated.

Hearing Double

The Duo 'auto doubler' is an altogether simpler prospect, and sets out to emulate traditional double-tracking by processing a copy of the original vocal to change its timing, pitch and amount of vibrato. Again, it needs to be told the approximate vocal range of the input in order to be able to track the pitch effectively, so you have to pick from soprano, alto/tenor, bass/baritone or instrument. After that you simply have four sliders for controlling Timbre, Vibrato, Pitch and Timing, all of which introduce variations on the characteristics of the original voice. It should be noted that Vibrato acts on any vibrato present in the original voice, so if none is present, there will be no effect. Two further level sliders and pan pots allow the original and processed voices to be positioned in the mix. With timing set to maximum, you get a distinct slapback sound, whereas at lower settings the result is more akin to two singers trying to perform the same part. A degree of randomisation has been introduced to stop the process sounding to mechanically perfect.

While I'm not convinced that Duo reproduces the same life and sparkle as a really good natural double-tracking job, the overall effect is still pretty realistic and the ability to tweak the character of the doubling voice slightly just adds to the illusion. The best results are achieved by panning the two voices to either side of centre and by not going overboard with the variation controls. While the plug-in can work in stereo mode, it processes only the left channel, so it is best to use it in mono-in, stereo-out mode.

Bring The Noise

Choir takes the Duo concept one step further by allowing the user to add four, eight, 16 or 32 voices, all based on processes applied to one original part. The controls are similar to those of Duo but without the Timbre parameter: there are sliders for Vibrato, Pitch and Timing variation, with a further slider setting the stereo spread. The result is slightly artificial if scrutinised in isolation, but it gets far more realistic when you add concert hall reverb. For me the smaller four- and eight-voice choir sizes sounded the most realistic, so building up a large choir from several instances of the plug-in working on three or four original vocal parts would be a better option than trying to emulate a whole choir part based on one vocal track — and of course you'd have to do this anyway to build up harmony parts. Again only the left channel is processed if you use the plug-in in stereo mode, and the more voices you specify, the greater the CPU load.

By combining compression and limiting in a single plug-in with a very simple control interface, Punch provides a simple way to get a vocal part to sit in the track. The Gain control adjusts the level of the signal feeding into the plug-in, while Impact sets the degree of compression/limiting applied to the signal. Ceiling sets the maximum level that the signal is allowed to reach, so in use, the controls are more like those of a limiter than a compressor. The effect of the processing can be seen in the dynamics of the output level meter but there's no dedicated gain-reduction meter, and I didn't feel comfortable without one. Though you should use your ears, I also like to be able to see how much the signal is being hammered!

Punch has both mono and stereo versions and is certainly successful in creating that solid, up-front vocal sound without having to juggle a host of parameters, though if you apply too much Impact, breathing artifacts start to show up as they do with any over-enthusiastic application of compression. With the addition of a gain-reduction meter, this plug-in would have really won me over, but even without, you can nail the level of a vocal track in a mix without being a compression wizard.

Sybil Engineering

While most of the plug-ins in Avox include some clever twists on what has gone before, Sybil is really a digital emulation of an old-school de-esser, where a high-pass-filtered side-chain forces a compressor to pull down the overall signal level when 'S' and 'T' sounds are detected. A gain-reduction meter shows how much the level is being attenuated when processing is taking place, while a variable high-pass filter (which defaults to an 8kHz cutoff) lets you home in on the frequency above which sibilance occurs. Threshold sets the level at which detected sibilance triggers gain reduction while the compressor section has its own attack, release and ratio controls.

Sybil is mono-only, and because it works like an old-school de-esser, it pulls down the level of everything when sibilance is detected, not just the high-frequency sibilant sounds. Used moderately it works fine and is easy to set up, thanks in part to the gain-reduction meter, but if you overdo it, the processed sound takes on a lisping quality, which isn't particularly attractive. In this respect, Sybil isn't so much faulty as unsophisticated! I would imagine that most DAWs include a de-esser plug-in that's at least as effective as this one, so I can't quite see why Antares didn't go the extra mile and have the compressor act only on the upper half of the frequency spectrum or, better still, just on the frequency band containing the sibilance.

http://rapidshare.com/files/95276218/Antares_AVOX_Bundle_VST_RTAS_v1.1.3.rar


Pass: vstclub.com
Antares Autotune VST v5.09 - AiR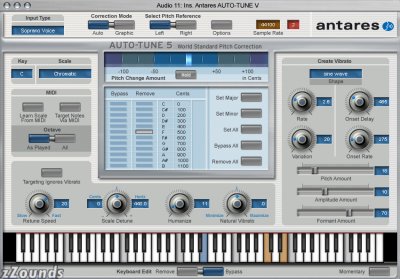 The Next Generation of the Worldwide Standard in Professional Pitch Correction.
The Fastest, Easiest-To-Use, Highest-Quality Tool for Correcting Pitch.
Hailed as a "holy grail of recording," by Recording magazine (and adopted worldwide as the largest-selling audio plug-in of all time), Auto-Tune corrects intonation problems in vocals or solo instruments, in real time, without distortion or artifacts, while preserving all of the expressive nuance of the original performance - with audio quality so pristine that the only difference between what goes in and what comes out is the intonation. All with a user-interface that is a model of clarity, speed and ease-of-use.

For most common pitch problems, Auto-Tune 5's Automatic Mode instantaneously detects the pitch of the input, identifies the closest pitch in a user-specified scale (including minor, major, chromatic and 26 historical and microtonal scales), and corrects the input pitch to match the scale pitch. A Retune Speed control lets you match the retune rate to virtually any performance style.

For meticulous tweaking, the Graphical Mode displays the performance's detected pitch envelope and allows you to draw in the desired pitch using a variety of graphics tools. This mode gives complete control over the correction or modification of the most elaborate expressive gestures.

Auto-Tune is used daily by thousands of audio professionals around the world. Whether to save studio and editing time, ease the frustration of endless retakes, to save that otherwise once-in-a-lifetime performance, or to create striking special effects, Auto-Tune 5 is the tool of choice.

Prepare to be amazed.

http://rapidshare.com/files/113223993/Auto.rar
Pass: www.vstclub.com
PSP Audioware VintageWarmer DX RTAS VST v1.6.5- H2O


PSP VintageWarmer (plug-in VST, RTAS and DirectX is a high-quality digital simulation of an analog-style, a single or multi band compressor/limiter. It combines warm analog sound with a straightforward user interface, and comes with a rich library of presets. The plug-in processor is highly flexible and can be used for both single and multi-band compression, as well as brick-wall limiting. This makes it an essential tool for mixing and mastering engineers. Careful attention has been paid to PSP Vintage Warmer's overload characteristics with the processor being capable of generating saturation effects typical of analog tape recorders. PSP Vintage Warmer also incorporates professional VU and PPM metering together with accurate overload indicators thereby assuring professional quality results.
http://rapidshare.com/files/140754549/PSP_Audioware_VintageWarmer_VST_v1.6.5.rar




BBE D82 SONIC MAXIMIZER
BBE Sound Inc. and Nomad Factory Announces the BBE D82 Sonic Maximizer.
BBE Sound Inc. and Nomad Factory are proud to announce their collaboration in the development and design of the high-resolution BBE D82 Sonic Maximizer plug-in.
The BBE D82 Sonic Maximizer Plug-In is a new software version of BBE's award-winning Sonic Maximizer that features revised code to support more platforms including Mac OS X, PC, VST, AU and RTAS. The D82 Sonic Maximizer Plug-In allows unlimited user-definable presets, realtime preset changes. It's like having a rack full of the 882i units at your command for processing multiple tracks. The D82 Sonic Maximzeer Plug-In can add brilliance, depth, detail, and definition to your music in many audio software applications that accept AU, VST and/or RTAS plug-ins, from multi-track recording to sampling to remixing.
http://rapidshare.com/files/114114603/BBE.rar.html
Pass: www.vstclub.com
Waves Mercury Bundle VST DX RTAS v5.0-AiR
El pack más completo!


With a stunning total of 91 stellar processors and over 200 component plug-ins, Mercury music software features more Waves in one package than ever before


- V-Series Three Vintage models that capture the sound of the consoles found in the world's most exclusive recording studios. The 2254. The 1081. The 1073 and 1066. The sound you've heard on hits from Steely Dan to Nirvana. The big budget sound—at your fingertips.

- Diamond Bundle Diamond is Waves' most celebrated software package, a vast collection of 43 unparalleled audio processing tools. Containing every single plug-in found in our Platinum, Restoration, and Transform bundles. Including: L3 Multimaximizer , L3 Ultramaximizer, L3-LL Multimaximizer, L3-LL Ultramaximizer, SoundShifter, Morphoder, Doubler, TransX, C4 Multiband Parametric Processor, Doppler, L2 Ultramaximizer, L1 Ultramaximizer, UltraPitch, Linear Phase Multiband, MaxxBass, MetaFlanger, Linear Phase Equalizer, Q10 Paragraphic Equalizer, TrueVerb, Renaissance Channel, S1 Stereo Imager, Renaissance DeEsser, Renaissance Equalizer, AudioTrack, C1 Parametric Compander, Renaissance Compressor, Waves Tune LT, Paz Analyzer, Renaissance Reverb, Enigma, Renaissance Bass, SuperTap, MondoMod, Renaissance Vox, DeEsser, X-Noise, X-Click, X-Crackle, X-Hum, IR-L, Q-Clone, PS22 Stereo Maker (TDM only), RenAxx
- MaxxVolume MaxxVolume is the ideal all-in-one dynamics processor for audio mixing and mastering as well as broadcast and post-production. Featuring both high and low level compression, gating, and leveling (auto gain control), MaxxVolume is perfect for voiceovers, vocals, and instrumental tracks.
- L-Series With the groundbreaking L1, L2, and L3, Waves changed the world of audio forever. Now, the world's first 16 band peak limiter, the L3-16 Multimaximizer, is taking mastering to a whole new level.
- Now including the L3-LL Multimaximizer and L3-LL Ultramaximizer!
- GTR Waves, in association with Paul Reed Smith Guitars, presents Waves GTR 2.0, the hardware/software system that puts the world's best amps, cabinets, microphones, and effects right at your fingertips.
- 360 degree Surround Tools Conceived and created especially for Surround production, 360 degree Surround Tools includes compression, limiting, reverb, spatial enhancement, and much more. For the creation of sophisticated, accurate Surround mixes for today's multi-channel listening environments, absolutely nothing compares.
- Vocal Bundle The ultimate vocal toolkit, made up of 5 powerful plug-ins, including the all-new Waves Tune for pitch correction and transformation, and DeBreath, a Waves exclusive which removes unwanted breath sounds automatically.
- IR1 & IR360 The IR1 and IR360 parametric convolution reverbs put the meticulously captured sound of the world's greatest venues in your hands. Plus, you can capture the sonic characteristics of your favorite rooms and hardware, and shape the reverbs with pinpoint accuracy.
- Z-Noise Waves set the standard for professional audio restoration with our acclaimed Restoration series plug-ins. Now we've raised the bar. Featuring real-time noise profiling, innovative transient preservation, and increased low-frequency resolution, Z-Noise truly is a revolution in noise reduction.

http://rapidshare.com/files/102356027/Waves_Mercury_Bundle_VST_DX_RTAS_v5.0-AiR.part1.rar
http://rapidshare.com/files/102377232/Waves_Mercury_Bundle_VST_DX_RTAS_v5.0-AiR.part2.rar
http://rapidshare.com/files/102392381/Waves_Mercury_Bundle_VST_DX_RTAS_v5.0-AiR.part3.rar

Pass: mertnil
Analog Signature Pack

LM-662 de Dual Limiting Amplifier es una recreación del clásico 670 Fairchild limitador. Cuando se utiliza el LM-662, la música y los instrumentos reacciona de la misma como un Fairchild 670 hace. LM-662 Dual Limiting Amplifier está preparado para ser un nuevo clásico con el añadido de que la cosecha calidez y realismo a los más exigentes estudio de las vías.

- Util como un limitador o un compresor en función de los ajustes de programa.
- Excepcional tono musical y centrarse.
- De doble canal (dual mono) - A / B con controles individuales
- Extremadamente rápido, tiempo de ataque con la variable. Tiempo de liberación de .3 segundos a 10 segundos

Equalizer EQP-4 es una gama completa de canales estéreo de la unidad, con corte de baja y alta frecuencia y aumentar la atenuación (o dejar de lado en horas pico), así como la superposición de dos bandas de ecualización. Los dos medio de la gama de frecuencia variable de las secciones ha ancho de banda, incrementar / atenuación, y selector de frecuencia. Todas estas características permiten a Equalizer EQP-4 manejar varias tareas EQ'ing, desde el dominio de las sutilezas de tono radical para dar forma a menudo necesaria durante el seguimiento.
La simple belleza de estas EQ son increíbles!. Recrean la intención de la calidez de los ecualizadores hardware analógico clásico, el Programa de ecualizador EQP-4 que se añadirán toque de magia a su música.

copia y pega este enlace en tu navegador para descargar por rapidshare:
http://rapidshare.com/files/102816117/NomadFactory_Amplifier.zip


FX - ZNF Effects Pack
El Blue Efectos Pack es una colección de 6 de plug-ins de procesadores para PC y Mac OSX. Diseñado para mejorar la calidad de las grabaciones sonoras digitales. Este paquete recrea el cálido sonido analógico clásico de hardware. La calidad de sonido de Blue Efectos pack es poco menos que increíble.
los seis plug-ins proporcionar una forma sencilla y funcional, "estilo clásico" de interfaz, así como bajo consumo de CPU de deslastre de procesamiento rápido.
Vintage Oilcan Echo TLE2S


El BT Vintage Oilcan Echo TLE2S entrega el sonido analógico clásico de una cinta con oilcan eco y delay. Este modelo añade "color" a tu música mediante el suministro de diversos estilos de períodos de tiempo específicos, 1964, 1977, 1989, y 1995. Estos estilos, junto con los otros diversos controles de la TLE2S, le dan una amplia gama de efectos basados en el tiempo a añadir a tus grabaciones.

Stereo Imager ST2S

BT Stereo Imager ST2S proporciona un control preciso de la anchura del campo estéreo. Esta gráfica sorprendente del dispositivo le permite "visualizar" el ancho de la etapa de sonido estéreo. Algunas pistas estéreo pueden requerir un tratamiento especial en términos de ancho de estéreo. Las imagenes de estéreo te ofrecen una forma sencilla de manipular la propagación de las pistas estéreo visual mientras recibe información sobre los cambios.
Tempo Delay DL3D

El BT Tempo Delay DL3D está impulsado por demora con un efecto de sonido analógico clásico. No más de prueba y error en la fijación de tiempo basado en tiempos de retardo. Basta con sincronizar el tempo de la canción, y seleccionar el valor de nota correspondiente a la demora de tiempo deseado. Esta demora ofrece tres canales independientes. Usando el control de Pan, el cual puede retrasar los tres canales del centro, o los canales de difusión por todo el campo estéreo (izquierda, centro, derecha). Controles de ganancia de los niveles establecidos para cada canal por separado.


[b]
Analog Valve Driver ADR2S

El BT Analog Valve Driver ADR2S ofrece un auténtico efecto de saturación que se encuentran en muchos amplificadores de tubo. Esto no sólo proporciona un modelo de tubo como Overdrive, sino también filtros de paso bajo y una puerta de ruido para permitir un mayor control de su sonido.
Analog Chorus CH2S

BT-Dual Analog Chorus CH2S crea diversos tipos de efectos de modulación clásica, como Leslie, Chorus, y Auto-pan. Además, este proporciona lo último en el control de LFO y panning, incluida la selección de forma de onda. Si usted necesita sutil mejora o agresivos efectos en una pista, la CH2S tiene el poder que necesita.
Analog Phaser APH2S

El BT Analog Phaser APH2S está diseñado con todas las características de un phasers analógico. Las seleccionables 4 - 6, - 8, - 12 etapas resonantes de filtros analógicos habilitan phasers para crear diferentes tipos de efectos de modulación. Varios controles de la APH2S, tales como Velocidad, Profundidad, Resonancia, y de escena, todo ello contribuye a una amplia gama de efectos gradual. Además, el control de Ancho ajustable proporciona un buen control para el campo de estéreo y de color.



http://rapidshare.com/files/102818573/NomadFactory_EffectsPack.zip

copia y pega este enlace en tu navegador para descargar por rapidshare:




FX - ZNF Dynamics Pack


Es una colección de 6 de plugins de procesadores para PC y Mac OSX. Diseñado para mejorar la calidad de las grabaciones sonoras digitales. Este paquete recrea el cálido sonido clásico de cualidades dinámicas de hardware analógico. La calidad de sonido de Blue Dynamics pack no es menos que increíble. Los 6 plugins proporcionar una forma sencilla y funcional con un "estilo clásico" de interfaz, como también de bajo consumo de CPU y procesamiento rápido.




El BT BrickWall BW2S-XP es una sencilla y elegante, compresor y limitador. Simplemente inserte el BT-EX BrickWall BW2S en su pista mono o estéreo, y si tienes una buena pista de audio sin los transitorios no deseados. Mediante el uso de este compresor limitador, puede aumentar el nivel general de la mezcla.






BT ExpanderGate GX622


El BT ExpanderGate GX622 Es totalmente ajustable, ajusta la señal si el nivel llega a ser demasiado bajo (según lo determinado por el Gate Threshold). Este control sobre el ruido de fondo de la pista. Al igual que un compresor, el módulo de control de ataque determinar la velocidad de cuando se abre y se cierra la puerta del sonido. Para ayudar a decidir el momento en la puerta para se abrir, puede utilizar los dos controles de filtro (Side Chain).

BT Compressor CP2S


El BT Compressor CP2S emula compresores de tubo analógico en términos de espera, las funciones y sonido incluidos son compresiones de RMS y Peak . Un compresor de cálido sonido analógico. BT Compressor CP2S es algo que usted necesita escuchar por sí mismo.
BT Compressor FA770


BT Compressor FA770 proporciona el funcionamiento y el sonido analógico de muy codiciado. El FA770 está diseñado con un el índice de "tiempo constante". Este modelo demuestra que no necesita muchas perillas y deslizadores para lograr la gran compresión de sonido de la FA770. Ajuste el umbral, tal vez el tiempo constante para ajustar la velocidad, y allí lo tiene.
The BT Deesser DS-2S


The BT Deesser DS-2S es un deesser de estéreo con controles de vendimia y de sonido. Este deesser está diseñado para domar la dureza de determinados sonidos vocales. Este dispositivo puede ser útil para controlar el nivel de sonidos vocales. Funciona como un compresor de frecuencias específicas. De hecho, el DS2S es esencialmente un compresor impulsado por filtros de hi-pass/band-pass. Reducen las frecuencias altas cuando el nivel de esas frecuencias supera el umbral. El DS-2S es la manera ideal quitar ese no deseado "sizzle" fuera de las pistas su voz.
BT Limiter LM2S


El BT es un limitador LM2S fácil de utilizar, es un limitador de tubo de la emulación. Los controles sencillos y destacadas de sonido hacen de este limitador la herramienta perfecta para el dominio de sonido. Además de la limitación de los controles básicos (Reducción de Peak, ataque, módulación, y de salida de ganancia), el LM2S también incluye un ecualizador de 5 bandas. Esto le permite abordar los detalles finales sónica en un período de sesiones, al tiempo que aumenta el dominio de la aparente mezcla de su sonoridad.



copia y pega este enlace en tu navegador para descargar por rapidshare:

http://rapidshare.com/files/102817594/NomadFactory_Dynamics.zip

FX - PowerSuite 5


Estos nuevos plugins v5 cubren los aspectos esenciales del diseño de sonido, de seguimiento, mezcla y masterización. Están disponibles en distintas configuraciones de conjunto e individualmente, de modo que puede elegir la combinación que mejor se adapte a sus necesidades de audio.


copia y pega este enlace en tu navegador.


http://rapidshare.com/files/97263368/PowerSuite5.rar





Symphonic Orchestra Gold Edition (4 DVDs)

Orquesta sinfonica completa, igual que la Silver pero viene con articulaciones y mas instrumentos. Yo de ti o cogeria la silver o la platinum, pero de todos modos aqui tienes.



http://www.taringa.net/posts/downloads/1468082/EastWest-Symphonic-Orchestra-Gold-Edition.html



lpc prominy guitar sampler (2 DvDs, 10 Gigas) full

Link al post que ha realizado DAVIDinstrument14.


http://www.taringa.net/posts/downloads/1536298/bajalo-en-torrent-!-lpc-prominy-guitar-sampler-full.html



Speedsoft Virtual
Sampler VSTi DXi v3.5.2 (comprobado)

+Iranian, Turkish and Arabic



Este sampler es genial, carga librerias akai directamente desde el cd o daemontools, te monta todas las muestras y un monton de cosas, muy intuitivo, es muy bueno! me costo conseguirlo y ahora aqui lo tienen.
Viene el programa y unas librerias de formato gig! Ale a disfrutarlo!

(El programa viene en ingles)

Características:
255 voz polifónica.
16 multi-parte timbral (16 canales MIDI).
16 salidas estéreo.
Soporta todos los formatos de salida habitual a partir del 16 bits/44 kHz hasta 32 kHz bits/192.
Muestra-Editor.
Auto-Looper.
Beat-Slicer.
Synth.
Construido en los efectos (Reverb, Delay, Phaser, distorsión, EQ, etc.)
Modulación matriz.
Soundbank Manager.
Vista previa automática.
También puede plugins VST de acogida.
AKAI 1:1 CDs en el disco duro (se puede crear una copia 1:1 de la AKAI CD como un archivo imagen de disco en el disco duro local o unidad de red).


Carga los siguientes formatos de muestra:


AKAI (S1000/3000 CD y S5000/6000. AKP)
SoundFont (. SF2) - También puede guardar como SF2.
HALion (. FXB. Fxp)
Gigastudio (. GIG)
LM4 drumkits
WAV
AIFF

Lista de. Simulado concierto iraní, turco y árabe instrumento de las bibliotecas:
Kit.gig árabe, BAGLAMAS.gig, Coro Oud.gig, Lucas 3.gig Menú, Menú 4.gig Lucas, DAFF01.GIG
DAFF02.GIG, Guitaron Octaves.gig, Guitaron.gig, Kamanche 3.gig, Kamanche 4.gig
Kamanche01.gig, Kamanche02.GIG, Kamnche TM.gig, Kamnche Tmin.gig, KAMNCHE_TM.GIG
KAMNCHE_TMIN.GIG, Coro Oud.gig Mono, Mono Octaves.gig, Naghare.gig, NaghareLoops.gig
Ney.gig, NEYAN001 Sab Self.gig, Qajak @. Actuación, Qajak.gig, Qajak01.gig, Qajak02.gig
santoor.gig, santoor2.gig, santoor3.gig, santoor4.GIG, SANTUR. actuación, SAZ CHORUSED.gig, SAZ
PLK + TREM.gig, SAZ TREMELO.gig, SAZ VEC + PRES.gig, SAZ.gig, Sorna HS.gig, Dorab.gig de alquitrán, alquitrán
Vakhoon.gig, TAR1.GIG, tombak1.gig, Tremolo.gig, turco Oud.gig, ZARB 2.gig, ZARB, Tehrani.gig


http://rapidshare.com/files/67112449/Sp_VS3.5.2___ITAlib.part1.rar
http://rapidshare.com/files/67121178/Sp_VS3.5.2___ITAlib.part2.rar



Password: Likos
Ueberschall Liquid Trumpet



Ueberschall Liquid Trumpet es la última elección de un plugin para sentir Trompetas reales. La búsqueda de auténticas trompetas finalmente ha llegado a su fin. Con trumpet Liquid ahora es posible añadir algunas increíble trompetas , los temas y los solos de la música a cualquier producción. Todos los temas son de trompeta desempeñado profesionalmente con diversas ranuras y sabores, una variedad de estilos y trompetas basic, mute and French horn). Ueberschall Liquid Trompet son bucles de construcción a base de kits (480 Licks) la adición de más de 1000 add-on Licks y phrases (jazz, funk, pop, soul, afro cuban, buena vista, bebop and electronica).

PIANOTEQ Piano de cuarta generacion cuyo sonido es modelado por el usuario, calidad de sonido excelente y tan solo en 32 megas!!! increible, mejor que the grand y otros pianos virtuales.



Copia y Pega Este Link en tu Navegador:



Download : http://rapidshare.com/files/126309434/p0t3Q.rar


26,9MB rar



Password : www.freshwap.net